Joining Instructions

We look forward to welcoming you to your first training class with Canine Connections very soon.

We have a lot to get through in each class and we are limited to an hour. Please do try and arrive a few minutes early each week to allow time to park, walk to the field and settle your dog.

---
What to bring - Puppy Foundation, Beginners & Improvers
Lots of high value treats like chicken, goats cheese, low salted ham etc. We will use a lot of food in training so bring more than you think you will need and we also advise to reduce the amount you feed your dogs for breakfast/lunch.
A treat pouch is recommended.
A toy that you can play with your dog e.g. ball on a rope, rope toy, puller etc.
A long lasting, edible chew (tripe stick, bulls pizzle, chicken or beef strips) or stuff Kong (Puppy Classes only)
A mat or blanket that your dog is familiar with – this will help them to settle and also we do quite a bit of mat work in class
Water bowl & water
We recommend harnesses for your dogs especially as we will be working on longlines, however, flat collars are fine. We do not recommend flexi leads.
---

What to bring - Agility Classes
High value treats
Selection of tug toys
Plastic lid or coaster to use as a target
Water & water bowl
Mat to use as a boundary
Short lead
No loose straps on collars or harnesses
No loose ID tags - we recommend Flexi-tags
Remember we are training outdoors so please come prepared for all weathers.
Please also take a look at our terms on our website:
Terms & Conditions
---
Stapleford Training Field address:
Church Lane, Stapleford, SG14 3NB. See map below.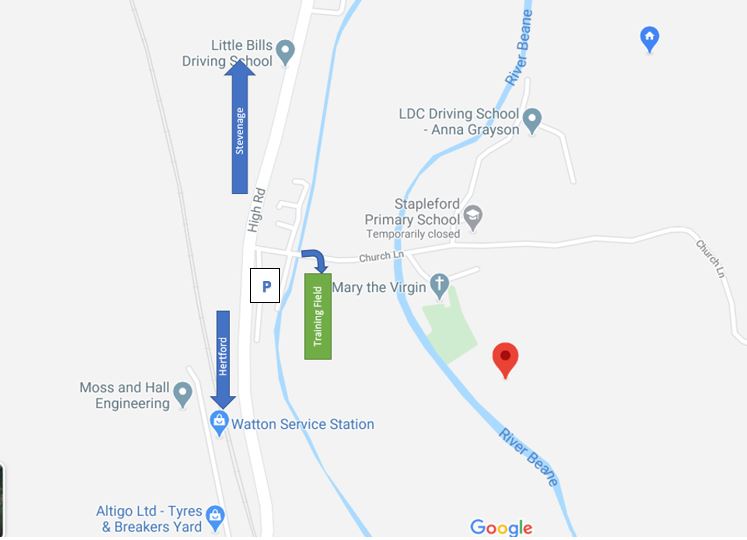 Directions:

From Hertford, turn right into Church Lane, over first bridge and the field is immediately on your right.
From Stevenage, turn left into Church Lane, over first bridge and the field is immediately on your right.

Parking

Please park in the road at the top of Church Lane immediately on your right as you turn into Church Lane off the A119. There is a red post box on the corner.
Please clear up after your dog!
---
Stapleford Village Hall address:
Stapleford Village Hall, High Road, Stapleford, SG14 3PA
From Hertford the Village Hall is on the left hand side just after the Church Lane turning.
From Stevenage the Village Hall is on the right hand side just before the Church Lane turning.
Parking
There is space in the Village Hall carpark for a maximum of 4 cars. Please park considerately.
---
What to expect from the course and how to make the most of it
Each week includes elements of practical training, as well as observation and discussion-led learning. And for some courses you will also have access to our online learning.
Our job is to teach you to train your dog. We recommend that the same handler comes to the class each week so there is consistency.
Your job is to allocate 20mins a day to teach your dog the skills you learn in class. If you practice regularly, you will see results. Dog training isn't a case of turning up to class once a week and training your dog for an hour. And you will not have a perfectly trained dog after 6 weeks, think a bit more long term.
We also recommend you take your own notes in class as this is a great way to consolidate learning and be able to remember what to practice each week.
---
Community Facebook Group
If haven't already, please submit a request to join our Community Facebook Group. This is a great place to ask questions about what we cover in the classes, share success stories, hang-out with your classmates and arrange dog walks etc. To submit a request to join,
click here
.
---
Bringing Guests
We deliberately operate with smaller group sizes than a lot of dog trainers. This is to allow the trainer to provide a higher level of interaction with each individual handler in the class. It becomes incredibly disruptive when the class size suddenly doubles when everyone in the family takes a turn. Most importantly, the dogs become very confused about who they should be responding to.
Guests are are welcome to come along and watch the training classes, but we ask that they stand on the sidelines and spectate.
Children under the age of 18 are welcome also. For safety reasons, they should be supervised by another adult who is not taking part in the class.
---